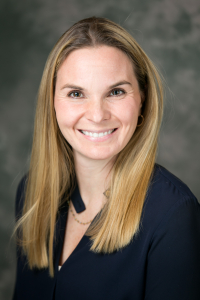 Christine Kendall is an expert on philanthropic strategy and the Founder of SmarterGive. Christine is deeply passionate about social impact and her work focuses on supporting donors to make effective and impactful decisions.  She believes strongly in the need for rigorous, data-informed grantmaking, because she has seen firsthand the power that donors can have when they are well-informed and strategic. Christine brings her expertise in analytical and strategic thinking to wide range of philanthropic questions her clients face. In addition to her work with donors, she also speaks and writes on high impact philanthropic strategies.
Christine developed her knowledge of social impact and strategic philanthropy as a strategy consultant at both LEK and FSG. While at FSG, a consulting firm focused exclusively on the social sector, she worked with cutting edge donors and implementers.  Her clients included foundations such as the Gates Foundation, the Hilton Family Foundation, the Barr Foundation, and the Knight Foundation. Christine has developed a unique skill set with a deep understanding of the social sector, but she has also developed a strategic business mindset, and she has often acted a facilitator between these different sectors. She has extensive experience working with corporate donors such as Royal Dutch Shell, Eli Lilly, Barclays Bank, and McKesson Corporation.  She has not only worked with funders but has experience working with many non-profits, collaboratives, and government organizations.  She has balanced domestic work with global experiences having worked on projects across the world including in Africa, Asia, and South America.
"We started our foundation because we believe we have a real opportunity to help advance equity around the world, to help make sure that, no matter where a person is born, he or she has the chance to live a healthy, productive life." — Melinda Gates
Christine has a master's in healthcare management from the Harvard School of Public Health and a B.A. cum laude in economics and history from Colby College. She has lived in Nepal and Ghana and now resides in the Boston area.  In her free time, she enjoys distance running, yoga, hiking, skiing, and spending time with her family.
Learn More
We're ready to support your vision.
With the right strategies and approaches to social issues, we believe philanthropists have the opportunity to transform our world.
Learn More